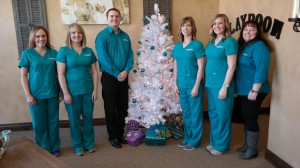 Are You Tired of Teeth Whitening Products That Don't Work? Our teeth can stain and discolor naturally over time. Our highly acidic diets are usually the catalyst. Everyday beverages like coffee, tea, and soda can wreak havoc on your enamel. It can be difficult to remove this discoloration with store bought products. Many patients have expressed frustration with teeth whitening products that over claim and under deliver. But you don't have to give up and hide your smile this holiday season. You can schedule a professional teeth whitening appointment with Dr. Anderson to get rid of the staining and discoloration before the New Year. Dr. Anderson can help you get the teeth whitening results you've always wanted. Lovell Dental proudly restores smiles daily throughout Lovell, WY, Sheridan, Powell, Worland, Cody, and the surrounding communities.
What are Your Teeth Whitening Options?
Teeth Whitening Toothpaste: Many patients are opting to use toothpastes which claim to have teeth whitening However, these claims are unfounded. Most whitening toothpastes don't contain the bleaching agents necessary to actually change the color of the enamel. They can only polish away shallow surface staining.
Over-the-Counter Teeth Whitening: There are many rinses, strips, gels, and other branded products on the market that claim to be able to whiten your teeth. However, many patients fail to realize that it can take several weeks of daily use before you are able to see any significant whitening results. Additionally, there's a high risk for gum irritation with these kinds of products.
Professional Teeth Whitening: Your best choice is always to opt for a professional teeth whitening Dr. Anderson offers the Zoom! professional teeth whitening system. Zoom! can whiten your teeth by several shades in just one short office visit. Dr. Anderson will also ensure that your teeth and gums are fully protected from irritation.
Holiday Teeth Whitening Appointments in Lovell, WY
You can make this holiday, a season to remember, by upgrading your smile with professional teeth whitening from Lovell Dental. The holidays are fast approaching, so make your holiday teeth whitening appointment with Lovell Dental today. Dr. Anderson offers complete and reliable teeth whitening results. Lovell Dental proudly serves families throughout Lovell, WY, Sheridan, Powell, Worland, Cody, and nearby areas.