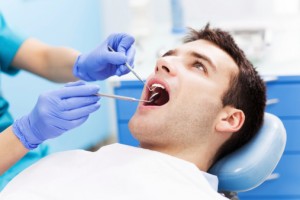 The phrase "best around" gets tossed around a lot. But, when it comes to offering Powell, WY with the best dentistry services, Dr. Lance Anderson in Lovell, WY truly is the best around. He does what a lot of other dentists simply can't, by offering new-patient specials and 24/7 dental emergency assistance. Lovell Dental truly is the cream of the dentistry crop.
We Offer Convenient 24/7 Emergency Dental Service
Emergencies can happen suddenly and unexpectedly. We understand this, which is why we offer emergency dental service. When you call, the only voice you will hear answering is Dr. Anderson's. That's right – 24 hours a day, 7 days a week, 365 days a year – Dr. Anderson places his patients' care above all else. No pre-recorded messages, no non-humans on the other line – Dr. Anderson will personally walk you through any emergency that may arise.
If a tooth or several teeth have been knocked out, it's best to see Dr. Anderson within a 30-minute period. While waiting for your emergency appointment, heed these steps to preserve the tooth:
Handle the tooth by the crown and avoid touching the root
Gently rinse the tooth to ensure that it's clean
Try to place the tooth back in its socket and hold it in place while gently biting down
If you can't place the tooth in its socket, put it in a cup of milk and head for Dr. Anderson's office
Additional dental emergencies may include a loose or misaligned tooth, a severely cracked or fractured tooth, and any type of serious tissue injury affecting the lips, mouth, teeth or gums. If any problem requires saving a tooth, stopping continuous bleeding or relieving severe pain, you most likely have a dental emergency on your hands. Give us a call when any dental emergency arises.
A Special Promotion for New Patients
We love adding new members to our dental family, and we'd love for you to be our newest one. Right now, Dr. Anderson is offering a fantastic deal: Cleaning, x-ray and bleaching service for only $79. Our friendly staff is always available for questions so please don't hesitate to contact them or Dr. Anderson for more helpful information.
Schedule An Appointment
To make an appointment or speak with our staff in Lovell, WY, give us a call. We also offer services to the surrounding communities of Byron, Cowley, Deaver, Garland and beyond.