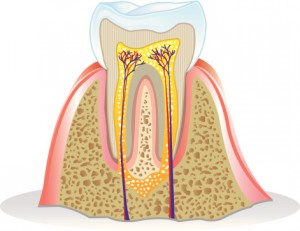 No one wants to hear they have a tooth that needs a root canal. However, when you consider the alternatives—infection, pain, possibly losing a tooth—then a root canal becomes the solution to a serious dental concern. And with today's modern dental techniques and advanced anesthesia, a root canal is nothing like the false reputation that precedes it. Dr. Lance Anderson at Lovell Dental in Lovell, WY, has taken advanced coursework necessary to conveniently provide root canal therapy for Big Horn County.
To understand what makes a root canal necessary, let's first look at the construction of a tooth. The outside layer, or enamel, is hard and protective. Dentin is the next layer and it is sensitive. Finally, at the core of each tooth is the dental pulp. Here are the tooth's nerve and lymph tissues as well as blood vessels. If bacteria reaches this pulp chamber whether by way of severe decay or a serious tooth fracture, then the tooth becomes infected. Signs that a tooth is infected include acute pain, swollen gum tissue around the tooth, sudden discoloration of a tooth and bad breath.
Root Canal Therapy Big Horn County Trusts
Once Dr. Anderson is certain you're comfortable, he will access your infected tooth and completely remove all signs of infection in the pulp chamber and the connected root canals. Then, the chamber is disinfected and filled with an anti-bacterial and biocompatible material. To protect the tooth, Dr. Anderson will likely recommend a natural looking porcelain crown. He will prepare the tooth for this permanent crown and place a temporary in the meantime. When your permanent crown is ready, you'll return to Lovell Dental to have Dr. Anderson adhesively bond the crown into place. Your tooth will be restored to good health and function.
Schedule an Appointment Today
If you are experiencing any of the above mentioned signs that can indicate the need for a root canal, then call Lovell Dental to schedule an appointment with Dr. Anderson. We serve patients in Lovell, WY, as well as the Big Horn County cities of Greybull, Basin, Cowley, Deaver, Frannie, Manderson, Burlington, and Byron, the Park County cities of Powell and Cody, and neighboring areas.