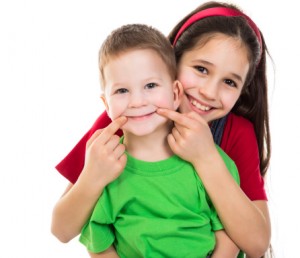 What was that famous song lyric that the Beach Boys sang? "Won't be long before summer time is through," is how it goes. Well, now that the summer is almost through, it's time to start preparing for that one time of year that every parents must endure: the first day of school. Oh, what a stressful time of year it truly is to be a parent. But, at our office in Lovell, WY, Dr. Lance Anderson wants your kids' mouths to be in extra-healthy shape for the upcoming school year. The summertime is a great time for kids because it allows them to get outside and explore. There are many things that could be happening inside of their mouths during this time, especially as the result of eating and drinking all kinds of sugary treats. Kids preventive dental care starts with good dental hygiene at home. This is where you can make a huge difference in your kids' oral health. Trust the family dentist Lovell, WY residents go to for excellent kids dental care.

Start Oral Checkups For Kids Early
The earlier the better, we always say — especially when it comes to keeping your young ones in great oral health. It's often forgotten just how important oral health is for the rest of the body. If there are dental issues going on that we don't know about, the chances for little problems becoming bigger ones is very real. Young mouths need all the attention they can get because they're still growing. You want your kids to live a full and happy life, and giving them the tools to practice great dental hygiene is one way to keep their smiles in excellent shape.
There are great preventive practices you can start applying at home before coming to see us for an appointment. Teaching your kids proper brushing and flossing techniques is important because it will instill a regimen that is sure to keep their mouths healthy throughout their lives. There is a right and wrong way to brush and floss, and making sure they're doing it right is vital. Holding the toothbrush at a 45-degree angle and using gentle strokes is a great start. As long as they're spending at least two minutes brushing and flossing the correct way, they won't need to come see us as much.
Starting them off on the path to excellent oral health doesn't take much except dedication. Though brushing and flossing twice a day is great, we need to see your whole family, too. A toothbrush can only do so much, so it's imperative that you schedule an appointment for your kids before the school year is in full swing.
Schedule A Back-To-School Appointment Today
We're always here to offer any assistance you may need. Something as simple as a refresher on proper brushing techniques is easy for us to explain. Never be afraid to ask us questions or voice concerns. We're here for you. Our office in Lovell, WY is ready to keep your kids' smiles healthy for the school year. We welcome patients from all over, including Byron, Cowley, Deaver, Garland and beyond. Dr. Anderson is the kids dentist Lovell, WY residents can trust.