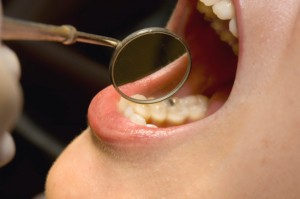 Happy New Year from Lovell Dental! To start the year off, we have a question for you. What was your resolution last week? Some of the most common ones are weight loss and going to the gym more — but Dr. Lance Anderson has a better idea. If you really want to improve the way you look and feel in 2016, consider improving your oral health! One excellent way to do that is by scheduling your six month checkup with the family dentist Lovell WY trusts. Keep reading to learn more, then contact us to book your appointment today!
Resolve to Care For Your Smile in 2016
When you commit to your oral health and hygiene, you're taking a big step toward maintaining healthy teeth and overall wellbeing for a lifetime. That's because your oral and general health are closely linked — and when there's a problem in your mouth, other conditions can be close behind.
We Help You Prevent Gum Disease…
One major focus of your six month visit to Lovell Dental is on looking for the small signs of gum disease, like tender, swollen and red gums or increased tooth sensitivity. When caught early, gum disease is easily treated and usually reversed — but the condition can have serious side-effects when ignored, including stroke, heart disease and eventual tooth loss.
…And Check for Tooth Decay, Too
Of course, one of the most well-known objectives of a six month checkup is to make sure your mouth is free from tooth decay, and to act quickly to restore teeth that have cavities. Scheduling your twice-annual visits to Lovell Dental ensures small problems are caught early — preventing more serious and expensive restorative treatments later on.
You Leave with that Clean Mouth Feeling
In addition to the important dental exam, our team of expert dental hygienists and assistants will work to thoroughly clean your teeth from accumulated tartar and plaque. They'll also evaluate your teeth for evidence of weak brushing or flossing, and provide advice for how you can maintain better hygiene at home as needed. And once the cleaning is complete, you'll leave our office with that clean mouth feeling everyone loves!
Resolve to Better Care for Your Smile in 2016
This year, make your New Year's resolution something you finally follow through on. Contact us to schedule your appointment at Lovell Dental today. We're here to help Lovell and all our neighbors enjoy premium oral health in 2016, and for many years to come — because we just love to see you smile.