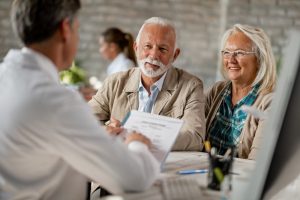 Has your dental implant been feeling a bit wobbly? Does it move around whenever you chew or talk? If so, your implant might have failed to heal properly. Although dental implant failure is quite rare, it should be addressed as soon as possible if it does occur. In most cases, the best way to preserve your oral health is to remove your failed dental implants in Lovell. If your dental implant has failed, here's what you can expect during the treatment process.
What Causes Dental Implant Failure?
Dental implants can fail for a variety of reasons, including:
Poor oral hygiene – The most common cause of dental implant failure is a gum infection called peri-implantitis. When you don't brush and floss often enough, the gum and bone supporting an implant can deteriorate.
Weak jawbone – Implants remain in place by merging with the jawbone. Implants that are placed in a thin or weak section of the jawbone have a higher risk of failure.
Tobacco use – Research suggests that as many as one out of every five smokers with a dental implant experiences implant failure.
Medical conditions – Autoimmune diseases, osteoporosis, and other conditions that impair the healing process can prevent successful integration of dental implants.
How Your Dentist Removes a Failed Dental Implant
If your dentist must remove a failed dental implant, they'll do their utmost to preserve as much healthy bone structure as possible. A common method they might use involves a specialized instrument called a trough bur. Your dentist uses this instrument to cut a minimal section of the jawbone along the edge of the implant until it is detached enough to pull loose.
Luckily, removing a failed dental implant is almost never a painful procedure! Your dentist will make sure you're relaxed and numb with local anesthetic and possibly sedation before beginning. Additionally, the jawbone doesn't contain very many nerves that can sense pain.
Can You Get a New Dental Implant Right Away?
It depends. In order to receive another implant immediately after removing a failed one, you must be free of oral infections and have sufficient healthy jawbone mass near the implant site. Because the most common reason for implant failure is infection, patients usually have to wait a few months to make sure they fully heal. If your jawbone has deteriorated, then your dentist may suggest a bone grafting procedure to strengthen the area of the bone where your new implant will be placed.
Just because your dental implant has failed doesn't mean you have to live with a gap in your grin forever! By working with an experienced implant dentist, you can enjoy having a full and complete smile again.
About the Author
Dr. Lance Anderson is an implant dentist in Lovell, WY who earned his Doctor of Dental Medicine degree from the University of Louisville. He has undergone extensive training to be able to perform every step of the dental implant process under one roof at Lovell Dental. He is even able to perform bone grafting procedures thanks to his post-graduate training at the White Cap Institute. If you suspect you have a failed dental implant, contact Dr. Anderson's office at 307-548-7654.