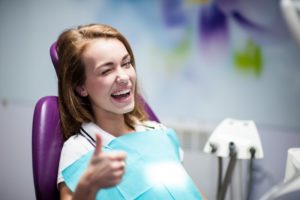 April has been designated as National Oral Cancer Awareness Month, and the primary focus is to encourage people to take advantage of preventive care visits. These appointments offer more than just a cleaning, though. Read on to learn how an oral cancer screening in Cody is typically performed and how it could save your life.
The Usual Contributors to Oral Cancer
Part of the process of preventing oral cancer is have an understanding of what contributes to the disease. The following habits should be avoided:
Tobacco use
Over-exposure to the sun
Heavy alcohol consumption
A high consumption of sugar
A diet high in processed ingredients
In addition to eliminating these variables, visiting your dentist for preventive care plays a huge role in maintaining your wellness.
What Happens at a Preventive Care Visit?
It's suggested that if you have no history of reoccurring dental health issues, you should visit your dentist every six months for preventive care. However, if you're prone to problems like frequent cavity development, you should be seen every three to four months.
While there, here's what you can expect to happen:
Cleaning – Your care begins with the dental hygienist performing a cleaning to remove any accumulated plaque and tartar.
Examination – You'll then undergo two examinations, one from the hygienist and another from the dentist, which includes an oral cancer screening.
What Does an Oral Cancer Screening Involve?
When your dentist performs an oral cancer examination, he or she will begin with a visual assessment of your face, neck, lips, the inside of your nose and your oral cavity. The professional will be looking for such indicators as asymmetries, swellings, bumps, discoloration and ulcerations.
Next, a physical examination will commence, which involves the dentist touching the head and cheeks, around the jaw, under the chin and the inside of the mouth to feel for any abnormal nodules or growths.
The Power of Early Detection
It's estimated that as many as 50,000 people will be designated with oral cancer this year, and roughly 8,000 of those cases will result in a fatality. There's a ray of light, though, because statistics show that with early identification and treatment, the five-year survival rate is 75%. However, when treatment in the latter stages of the condition, that number falls to 20%.
An old axiom states, "An ounce of prevention is worth more than 10 pounds of cure." To truly experience the essence of what this statement embodies, contact your dentist in Cody to schedule a preventive care visit today.
About the Author
Dr. Lance Anderson earned his dental degree from The University of Louisville. Throughout his career, he has remained committed to helping each patient who enters his office experience the best in oral health. Thus, Dr. Anderson takes a tedious approach to every facet of care he provides. He performs oral cancer screenings at Lovell Dental, and he can be reached for more information through his website.