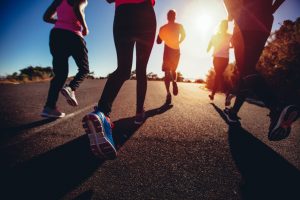 Summer is just around the corner, and everyone wants to look good when the sun is shining – but did you know that getting in shape isn't just good for your waistline, it also benefits your smile? That's right – losing weight can improve your oral health for several reasons. In this post, your family dentist in Lovell, Dr. Lance Anderson, explains how your smile shows you are what you eat, and how getting fit will give you a better grin.
Less Sugar, Sweeter Smile
The team at Lovell Dental know that most people lose weight by eliminating sweets and carbs, which is the perfect nutrition change for your teeth. We all know that sugar causes tooth decay, so limiting this gives your enamel the chance to get stronger – which means fewer cavities, and lower instances of gum disease.
A Second Chance For Type Two Diabetes
And speaking of sugar, we would be remiss if we didn't mention how weight, diabetes, and your oral health are linked. Many people who are overweight deal with type 2 diabetes and unhealthy blood sugar levels can wreak havoc on your smile. Reduced blood flow to your teeth and gums, trouble fighting oral infections, and tooth loss all come from this condition. Diabetes also causes dry mouth – which contributes to dental problems. Losing weight can prevent and reverse some forms of diabetes, and in turn, keep your teeth healthy.
Stop The Snack Attack
How you eat is as important as what you eat, and getting trimmer by cutting out snacking is great for your weight and your teeth. When you graze or drink sweetened beverages (these count as snacks), your teeth are constantly assaulted by food and bacteria – eating or drinking sodas and juices frequently prohibits saliva from doing the important job of reminerlizing your enamel, which makes teeth weaker. Stop snacking and you'll not only notice a lower number on the scale, but a brighter smile looking back at you in the mirror.
Inflammation & Oral Health
When you lose weight, you reduce chronic, systemic inflammation and make your body healthier overall. Lowering inflammation can reduce gum disease, since this condition can be caused by an overly aggressive immune system. As you lose body fat, you'll notice healthier gums and prevent tooth loss.
What Nutrition & Fitness Tips Should I Follow For Healthy Teeth?
Dr. Anderson recommends that his patient use the following strategies to promote oral, and overall, well-being:
Eat Healthy

– Load up on dairy, especially cheese, and make leafy greens a big part of your menu, since they're low calorie, but chock full of calcium, magnesium, and iron.

Drink Water

– Water should be your beverage of choice for weight loss and a healthy grin. You get bonus points if tap water is your source, since the fluoride increases enamel strength.

Exercise

– Getting the blood flowing is important, even for your teeth. Increasing your circulation can help promote healing in the mouth, and help with gum disease.
With all these great tips, you may be thinking, what dentist near me can help me get the beautiful smile to match my beautiful figure? Schedule your appointment with Lovell Dental today and turn heads!