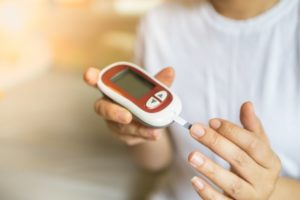 If you didn't know, November is National Diabetes Month, and it's time to consider how living as a diabetic can impact your oral cavity. In order to find ways to keep your teeth, gums, and overall well-being in optimal shape, a dentist wants to explain how diabetes affects your oral health in Lovell, WY. Read on to find out more about Type 1 and Type 2 diabetes and what you can do to prevent gum disease from developing.
Type 1 Diabetes and How it Affects Dental Health
With an estimated 3 million people in the United States living with Type 1 Diabetes, 15% are children. It should come as no surprise that a condition that affects blood sugar levels is closely associated with gum disease, which is also known as periodontal disease.
Type 1 Diabetes may not cause oral health problems, but it can make you more susceptible to developing gum disease, or it can simply make it worse. When the gums become inflamed or swollen, these are clear indicators that gingivitis is present. To fight it, it's important that you maintain your blood sugar levels and maintain a good oral hygiene routine.
Oral Care for Type 2 Diabetes
Because diabetes involves trying to manage glucose levels, gum disease can become more prevalent, making it much harder to keep blood sugar levels at a normal level. Since individuals who have diabetes have a weaker immune system and are more susceptible to bacterial infections, gum disease can develop quite easily.
Gum pockets can begin to develop, resulting in red, swollen, and bleeding gums when brushing or flossing.
Preventing Gum Disease as a Diabetic
To prevent gum disease from occurring, diabetics should follow these recommended steps:
Brush your teeth twice a day for two minutes. Use a circular motion while brushing in order to clean the surface of the tooth and gum line.
Floss at least once a day to remove harmful bacteria and food particles from in-between teeth.
Use an ADA-approved mouthwash twice a day.
Maintain regular dental checkups and cleanings with your dentist in Lovell, and opt for morning appointments, if possible.
Opt for sugar-free chewing gum.
Eat a well-balanced, nutrient-rich diet.
Take any medications as instructed.
Monitor your blood sugar levels.
Living with diabetes doesn't necessarily mean battling gum disease as well. Should you notice any symptoms occurring that have you concerned, talk to your dentist and physician about ways to manage your diabetes and oral health.
About the Author
Dr. Lance Anderson studied at Sheridan College where he achieved his Associate in Science degree. He then went on to attend the University of Wyoming where he earned his bachelor's degree in biology before completing his Doctor of Dental Medicine degree at The University of Louisville in 2012. He and his team at Lovell Dental understand that gum disease is a serious problem for many adults, and if you are one of the millions who are experiencing symptoms associated with periodontal disease, it's time to consider how periodontal therapy can help you. Learn more about this treatment by contacting us at (307) 548-7654.