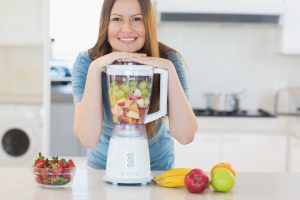 Want to improve your dental health? It can be as simple as examining your diet. If you're regularly eating sugary, starchy, foods or, or if your favorite snacks are just simple carbohydrates, you're putting your teeth at risk. Follow Dr. Lance Anderson's tips for stronger teeth and healthier gums. Your family dentist in Lovell is here to help you and those you love most smile better!
#1: Watch The Simple Carbs
You know sugary sodas and snacks put your teeth at risk of decay, but have you thought about the impact other simple carbohydrates have on your smile? That's one of the big reasons for the recent news about Olympians' poor dental health — most top athletes consume lots of white pasta, bread, and other refined carbs to maintain high energy levels. Unfortunately, these refined grains and starches throw off the pH balance in your saliva, weakening your mouth's biggest defense against decay. Better is to eat whole grains, which have not been modified (or refined) in any way.
#2: Eat Your Spinach
Popeye probably enjoyed the best dental health of any of your favorite cartoon characters. Leafy greens like spinach and kale are chock full of calcium and folic acid, two of your mouth's best friends. Calcium helps to strengthen tooth enamel, and folic acid has been noted to aid in reversing gum disease. Make a fresh, healthy spinach salad to go along with dinner, or add kale to your next pasta dish.
#3: Stock Up On Dairy
The next time you're at the grocery store, take an extended stroll down the dairy aisle. Stocking your fridge full of yogurt, low-fat cheese, and milk can greatly improve your family's dental health. Dairy products are full of calcium and vitamin D, which contribute to stronger teeth and bones. Recent evidence also suggests that dairy can help to protect gums from gum disease.
#4: Make Some Broth
This one may come as a surprise. Did you know that traditionally prepared bone broth (that is, boiling bones in a pot and adding the liquid to your next soup or casserole) contributes to better oral health? It's true. Bone broth is full of vitamins and minerals that do your whole body good — and that includes your teeth and gums. It's won't be long until it's soup weather here in Lovell, so whip up a big pot of chicken broth and add in your favorite noodle soup recipe. Your family's dental health will benefit!
#5: Sip Your Green Tea
Maybe you're partial to a nice cup of joe in the morning, but consider adding a cup of green tea to your afternoon routine. A recent study conducted in Japan suggests that regular consumption of green tea can benefit your gum health. Green tea is full of antioxidants that are good for body and mind — so you really don't have anything to lose with this one.
In addition to eating well, make sure you're visiting your dentist in Lovell WY for regular preventive care. When was your last dental cleaning and checkup? Contact us to schedule a visit with the dentist in Lovell WY today!