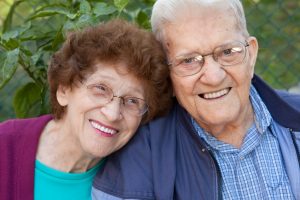 If you've struggled with multiple missing teeth you know the daily challenges that this condition presents. Enjoying food becomes difficult and embarrassing because you're unable to chew properly. This also causes your health and nutrition to suffer. Talking, smiling and speaking in front of others may also make you feel self-conscious when you're missing multiple teeth, causing your personal and professional relationships to suffer. The good news is dentures in Lovell, WY can restore your smile and improve your quality of life!
What is a Denture?
A denture is a removable appliance, typically made of acrylic that is designed to replace an entire arch of teeth. Dentures stay in place through a combination of suction and a snug fit, and sometimes a dental adhesive is also helpful. There is a learning curve when you first begin to talk and eat with your new denture, however you'll appreciate how they immediately restore your smile and your confidence.
What is a Partial?
A partial denture, or partial is also a removable appliance that is designed to replace multiple missing teeth for patients who still retain a most of their natural teeth. Like a puzzle, a partial will fill in the gaps with prosthetic teeth, which will naturally complement your smile. Partials stay in place with metal clasps, which anchor to your existing teeth.
What is an Implant Supported Denture?
Modern dentistry is offering options for denture wearers that not only make wearing dentures more comfortable, it's also greatly reducing the learning curve for talking and eating with your denture. This is through dental implants, which are strategically placed in your jawbone to help anchor and support denture better than ever before. With dental implants in place, your denture will no longer slip or move during eating or talking, yet they're still removable for sleeping and cleaning, giving patients a secure fit and the ability to clean an maintain their dentures.
With so many options for restoring your smile, how do you know which one is best for your needs? A consultation with Dr. Lance Anderson at Lovell Dental is a great place to start! Dr. Anderson is your premiere dentist in Lovell, WY and he's been restoring patients' smiles for many years. Because of his advanced training, he's even able to place dental implants in the comfort of our office if implant supported dentures are the right option for you. This means that all of your treatment can be completed at our office with the team that you know and trust!
Don't let missing teeth hold you back from living any longer! Contact our office today to learn more about how we can help you.