You probably know the basics of good oral hygiene: brushing, flossing, and visitin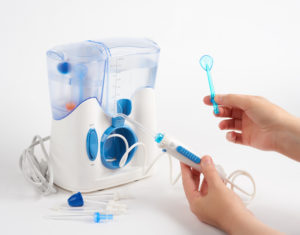 g your dentist twice a year. Many people manage to do two of those things, but flossing still proves to be a big obstacle for a number of adults. Unfortunately, flossing is absolutely crucial for oral health — and people who don't manage to do it regularly are at a higher risk of cavities and gum disease.
Just a few of the million reasons we've heard for why people can't floss include:
"The dental floss hurts my fingers!"

"I can't fit my hands into those small spaces around the back teeth."

"I have dental work that makes flossing challenging."

"I have trouble remembering to floss."

"You really expect me to floss with

braces?"
And we've got one response for all: have you tried a water flosser?
The Magic of Water Flossing
A water flosser (or water pick) is a handheld tool that shoots a steady stream of warm or room-temperature water around and between your teeth and gums. Just like with regular flossing, you can use it before or after you brush at night and/or in the morning. The stream of water removes food particles and bacteria from between your teeth to prevent the plaque and tartar buildup that causes cavities and gum disease.
A water flosser is a wonderful alternative for people who have trouble flossing for any of the above reasons. It can be especially helpful for people who have braces, as flossing around those fixed brackets and wires proves to be tricky for many patients.
A water flosser can also help people who have trouble remembering to floss, simply because it's bigger and more visible than normal floss — so you're less likely to skip it after you're finished brushing.
Which Water Flosser to Buy?
Water flossers come in a variety of types and prices. To make sure you're choosing wisely, select one that has the ADA (American Dental Association) stamp of approval. These water flossers have been tested and are proven to reduce the plaque and tartar that cause cavities and gingivitis.
Oral Hygiene Basics
Flossing — whether it's with traditional dental floss or a water flosser — is just one aspect of a good oral hygiene routine. To ensure you are doing everything you can to prevent cavities, gum disease, and other oral health hazards, brush your teeth at least twice daily and visit your dentist every six months for a dental cleaning and checkup. These appointments are important because they give our team the chance to remove the plaque and tartar that's still had the chance to build up despite your positive oral hygiene habits.
To learn more about water flossing or to schedule an appointment dental cleaning before the year is up, don't hesitate to get in touch with your dentist. We can't wait to help you enjoy a clean, healthy smile for life!
About the Author
Dr. Lance Anderson is a trusted provider of family dentistry for patients of all ages in and around Lovell. To learn more about his general, restorative, and cosmetic services, you are invited to contact the office at 307-548-7654.