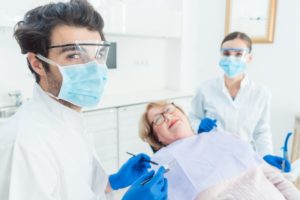 While you have been staying home to prevent the spread of COVID-19, you have probably been contemplating which places are safe and which you should be avoiding for the time being. You aren't alone. One location that you certainly don't need to be worrying about is your dental office. In fact, the American Dental Association (ADA) expresses that oral health is integral to your overall health, making dentistry and essential health care. Continue reading to learn more from your dentist in Lovell about why it is safe to go back to the dentist for your regular appointments.
Have Any COVID-19 Cases Been Linked to Visiting the Dentist?
Even though there is no way to eliminate the risk of contracting COVID-19 completely, both the World Health Organization (WHO) and the Centers for Disease Control and Prevention (CDC) have reported that no confirmed cases have been traced back to the dental office. With so many safety protocols in place and constantly changing to keep patients and the dental staff safe, the chance that you will contract the virus at the practice is highly unlikely.
What Steps Are Being Taken to Keep Patients Safe?
Your dentist has always been clean and safe. In the past, you have probably noticed that your dentist and clinical team always wear PPE when working in your mouth. This includes surgical masks, disposable gloves, and whatever else your dentist deems necessary. Frequent handwashing and cleaning of surfaces and instruments are also part of the norm. Here are some of the additional steps being taken by your dentist in order to reduce the probability of spreading COVID-19 in the office:
Advanced Staff Training
All members of the dental staff have completed additional awareness and prevention programs, so they have the knowledge and are prepared to provide safe care to patients.
Daily Health Checks
Everyday when the team comes into the office, they are asked a brief set of questions regarding their current health. They are also given a no-touch temperature check. This helps to ensure that no one is experiencing COVID-19 related symptoms.
Changing Work Clothes at Work
The dental team is now changing into and out of their clean scrubs while they are in the office.
Anti-Microbial Rinse
In order to reduce bacteria in the mouth before your appointment, your dental team will provide you with an Oracare solution for you to rinse your mouth with for about 60 seconds. When your dental team is safe, so are you!
Patient Pre-Screening
Patients are asked to complete a quick health questionnaire and consent form before appointments. You are also required to complete a no-touch temperature check when you arrive at the office.
Sequenced Patient Scheduling
Appointments have been spread further apart than usual in order to allow for more time to clean between patients. This also helps to prevent unnecessary contact between patients. The less people in the office at one time, the better!
Your dentist is doing everything they can to keep you, your family, and their staff safe from becoming sick. With all of the additional safety protocols that have been put into place, you can now attend your visits with peace of mind.
About the Author
Dr. Lance Anderson earned his Doctor of Dental Medicine from The University of Louisville and opened up his very own practice in Lovell, WY. He is a member of both the American Dental Association and the Wyoming Dental Association. Dr. Anderson and his team are taking 14 new safety protocols to keep their patients safe during the COVID-19 pandemic. If you have any questions, concerns, or would like to schedule an appointment, visit his website or call (307) 548-7654.