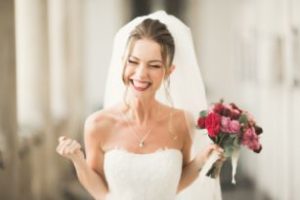 Being engaged is an exciting time for any couple, but it's also an incredibly busy time. On top of all the event planning you have to do, you also want to look your best on your big day. Especially since you'll probably be photographed more than any other day in your life! So, if you've spent years wanting to enhance your smile, it's a perfect time to learn about the cosmetic treatments that can make that a reality. Keep reading to learn about 4 procedures a cosmetic dentist in Cody can use to give you a beautiful smile in a short amount of time!
1. Direct Bonding
Also called cosmetic bonding, this procedure uses the same material that's used for white fillings on the back teeth to correct minor imperfections on the front teeth.
If you have small chips, cavities, or cracks, bonding is a great way to mask them. Also, it can be done in just 1 visit.
2. Whitening
It's easy to see why whitening is one of the most popular pre-wedding procedures: It's a fast, easy way to dramatically enhance your smile.
There are 2 main choices, both of which will whiten your smile 6-10 shades:
Zoom! in-office whitening – This option gives fast, dramatic results in about one hour, so it's perfect for anyone who wants their results immediately.
Take-home trays – This option is more gradual and involves wearing custom-made trays filled with whitening gel for 30-60 minutes a day. Most patients get their final result in 10-14 days.
Also, it's important to note that some types of staining are so severe that they can't be corrected with whitening treatments. In these cases, porcelain veneers are a great solution.
3. Porcelain Veneers
Porcelain veneers are strong, wafer-thin "shells" that are adhered to the teeth, completely changing their appearance. They're perfect for all of the following:
Chips and cracks
Minor crowding or gaps
Severe stains that don't respond to whitening treatments
Small or oddly shaped teeth
Veneers are usually done in just 2 appointments. Also, porcelain is very stain-resistant, so your veneers will continue looking great for many years with basic care and maintenance.
4. Clear Braces
If you'd like to straighten your smile (but don't want to wear metal brackets and wires), there's no better time than before your wedding!
Today, you have more options for clear braces than ever before. The one that's right for you depends on the severity of your alignment issues:
Invisalign – Invisalign is used for more involved cases and takes an average of 12 -18 months. However, even if you can't complete your treatment before your wedding day, you'll be glad to know that many people still make significant process in just a few months' time.
MTM Clear Aligners – MTM is used for relatively minor corrections on the front 6 teeth only, and only takes an average of 6 months.
Also, don't forget that (with either option) you can remove your trays on your wedding day so no one will know you're in orthodontic treatment.
What's Your Next Step?
The best way to find out which procedures would work best for you is to schedule a consultation with a dentist in Cody. They'll look at your goals, dental history, timeline, and budget to create the right treatment plan for your needs.
Having a smile you love is a wonderful wedding present to yourself. You'll not only have more confidence on your wedding day – but for many years afterward as well!
About the Author
Dr. Lance Anderson is a general, restorative, and cosmetic dentist in Cody and a graduate of The University of Louisville School of Dentistry. As a husband and father of 5, he knows how important it is to feel good on your wedding day and loves boosting peoples' self-confidence with cosmetic dentistry. If you're getting married soon and have any questions, he can be contacted via his website.